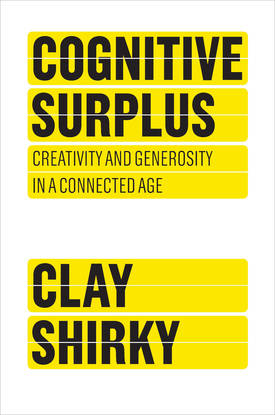 Since television has become a standard household item approximately one trillion hours of US citizen's cognitive surplus (=free time available to spend on collaborative projects) is spent watching television each year. This book discusses the opportunities that collectively using our cognitive surplus could bring, and has already brung, to the world in the shape of important social online tools like online services Ushahidi as well as online jokes like lolcats.
Gin and Social Change
Drinking gin became largely popular around 1720 in London due to social change (increase of free time due to industrialisation) and people's inability and unease to adapt to the sudden changes sparked by industrialisation. The government tried to ban drinking gin but people managed to find loopholes so that they could continue to drink gin essentially wasting cognitive surplus, as they weren't inclined to do anything else. Clay Shirky points out that drinking gin was seen as the problem when in fact, the social change and the insecurity that social change brought with it was the problem. As soon as people got used to the new social culture, and their society adjusted accordingly, gin was quickly forgotten and people found other activities to do and thus put their cognitive surplus to use in positive ways. However, the main activity was soon to be watching television.
Shift From Television to Online
Watching television was and for a lot of people still is the easiest and least participatory way to spend your free time. Whether the program being shown is good or not, people tend to continue watching as it is easy and marginally enjoyable. Besides providing readers with facts and, frankly, a wake up call that tells you that you could be doing a lot more with your time than mindlessly staring at adverts on the television, Clay Shirky says there is another social change happening right now. He states that a majority of the world's population is under 15, thus have no concept of a world without connected new media and for the first time ever it seems that the new generation is watching less television than the older generations. This new connectivity-age has already caused many uproars by normal people simply connecting online and using the internet to coordinate raising money for charity, candlelight protests and more. It seems that people are subconsciously finding positive ways to use their cognitive surplus.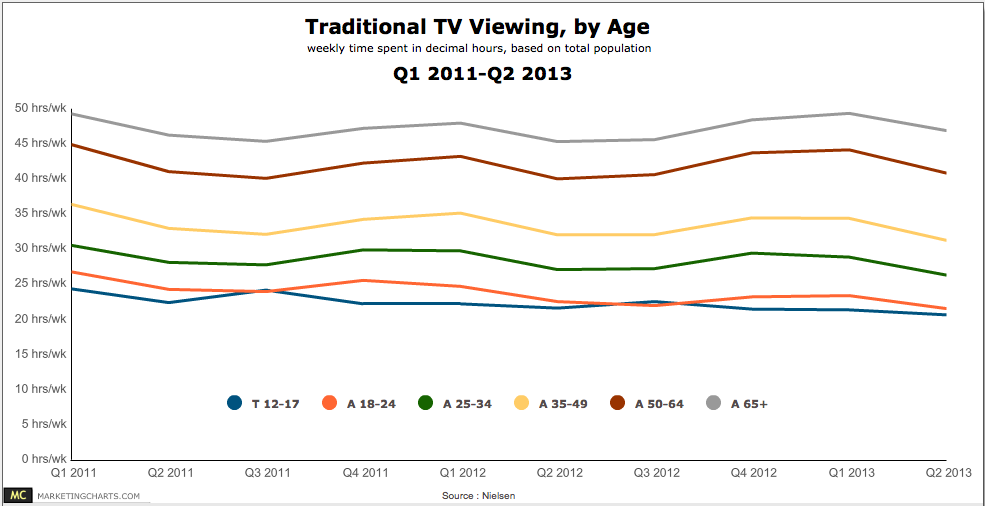 Korean 'Candlelight Girls' protest
To show what social media and any online communication platform can do, Clay Shirky tells the story of a Seoul based protest that was organised by teenage girls to protest against the South Korean government reopening their borders to beef import from the US after banning US beef for 5 years due to a mad cow disease outbreak in 2003. Loads of teenage girls and their families gathered daily for numerous weeks due to the impromptu decision made by president Lee without consulting any of the citizens about how they felt about it. What was so different about this protest is that it was organised through Dong Bang Shin Ki, which is a popular boy band. DBSK themselves had nothing to do with the protest but their website has an open forum on which anyone can discuss anything, and the beef import topic seemed to enrage a lot of teenage girls who then used the tool for coordination.
Media Triathlon
Clay Shirky says that current media is a triathlon. People want to consume media, but they also want to be able to produce their own content and share it with the world. He refers to the old generations who solely consume as Looky-loos, a term thought of by art historian and cultural critic, Dave Hickey. Clay Shirky often mentions the importance of participation and the growth of this participation trend regarding media. Stating that there used to be a slim chance of catching a newsworthy event in real-time, but since the rise of camera phones those odds have done a 360 and now it is unlikely to have anything go undocumented.
The wiring of humanity lets us treat free time as a shared global resource – design new kinds of participation and sharing that take advantage of that resource
Conclusion
It's easy to just 'go with the flow' and see what happens regarding media and how people continue to adapt, use and find new ways of creating and participating online, but with this book Clay Shirky really shines a light on just how much we can do with our surplus and new media resources. I think it is very interesting to learn about what people can do and have done with their time and resources pooled into one site like Wikipedia or a cause like Grobanites. Looking at fans of Lost and their collectively created Lostpedia is inspiring and mindboggling. I advise any communication or marketing professional to read this book because it truly provides more insight into new ways of looking at communication, finding out your consumers' needs and intrinsic and extrinsic incentive effectivity. Also, if you want to read more on what collectivism can do online and offline, you may want to read Clay Shirky's first book: Here Comes Everybody and watch Clay Shirky's Ted Talk on Cognitive Surplus posted below.