CANDY KINGDOM 'WINTER ART CONTEST FOR KIDS'
Welcome to the Candy Crush Soda Saga Art Contest for Kinds!
How will your creative Candy Kingdom drawing make the world a sweeter and happier place? Join our Candy Kingdom contest and discover how sweet Candy Kingdom can be. The participants will win prizes and get opportunity for an Award Ceremony!
Candy Crush Soda Saga (Video)
Guidelines
Entry period
February 2016 – beginning of March 2016
Eligibility
The contest is open to anyone aged 14 years old or younger.
Age categories
6 years old and under; 7-10 years old; 11-14 years old
Theme
Candy Winter Kingdom
Materials
Colored markers, pencils, play dough, watercolors and other materials except digital tools
Timeline
Notification of world contest nominees May 2016
Award Ceremony June 2016
Digital Gallery June – August 2016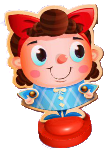 Ask Kimmy for more questions!